Post by Robin Leigh Anderson on Oct 31, 2011 20:43:32 GMT -8
I know this is a bit late, but I've been busy since the end of June assimilating all the amazing information gleaned at the conference this year.
First, credit where credit is due:
MY HEROES, SBWC FOUNDERS BARNABY AND MARY CONRAD
MY NEW HEROES, NEW SBWC OWNER MONTE SCHULZ AND CONFERENCE DIRECTOR NICOLE STARCZAK
When I heard that Monte Schulz had bought the conference a couple years back and wished the conference to be true to its roots of the art of storytelling, I threw my hand in the air and volunteered to work on the staff. Monte and Nicole did an amazing job, and kudos to the El Monte Hotel (name just a coincidence

) for their facilities and staff which bent over backwards to accommodate the attendees' needs.
The publishing paradigm is changing, and while this is good news for writers, it also means that there is work to do in order to mine the gold in the proliferation of new publishers on the Internet. Time, effort, and employment of The Dreaded P Word (Patience!) are the order of the day. I am pursuing some of these new leads at the moment myself, and finding that I like the new paradigm.
A loud shout-out to the amazing workshop leaders, notably my favorite go-to's of Matthew Pallamary (scifi and fantasy) and Yvonne Nelson Perry (fiction). And of course thanks to all the fellow writers who gave such great critique to help polish the stories I had read.
The different programs and featured speakers gave us all quite a bit to ponder. I was still pondering during the wrap-up dinner that last evening:
I was so busy flashing a smile for photographer extraordinaire Rachel Thurston that I didn't realize till I saw this photo that pal Rick Shaw (left) was sticking out his tongue at me and my best friend Verna Barber (right) was cracking up over this. As his wife later said when this hit Facebook, 'that's Rick'.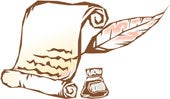 When fellow attendee and friend Alex Durak went to the dessert table for both of us, I conceived a whole new fantasy tale just staring out at the sunset over the Channel. The faeries and I have been having quite a time since then.

I was both exhausted and energized by the time the conference ended and simply can't wait for next year. I hope any writer reading this can join in this amazing experience, you will not be sorry you attended. Two thumbs WAY up.